Congratulations go to Kimberley Milligan on passing her driving test in terrible driving conditions.
Even when given the option to abandon the test, by the examiner half way through it, she said, no I'll carry on.. Only reason she was given the option and allowed to do so was because her driving was first class, according to the examiner. 👍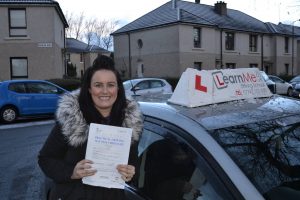 Kim took her lessons in and around the Govan, Ibrox, Cardonald, Mosspark areas of Glasgow with her driving instructor.
Over the moon for you pal and hope you get a wee car soon, no doubt I'll still take abuse off you as you drive past me. 😂
Well done again, proud of you 🚗